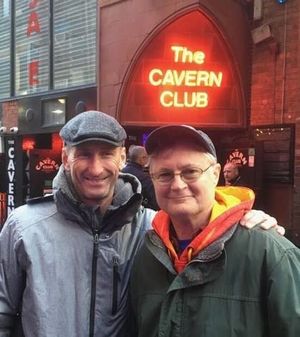 About once a year I get a group of fun-loving, forward-thinking folks together for a group adventure to someplace exotic or interesting. In 2019 it was Ireland. 
I can safely say we had a blast. It's hard not to have a great time over there.
After the the tour ended and the group departed for home, I ferried across the Irish Sea with my Dublin friend John Dunne (the handsome one in the photo) to explore Wales and Liverpool. After a couple of rainy days in Snowdonia National Park, we hit Liverpool on Saturday night. 
To say downtown was crowded is like saying the Titanic had a little accident. We didn't realize there was a major soccer game happening the next day. We didn't know that Liverpool fans (remember, that's short for "fanatics") come from all over Europe for the games. One guy we met came all the way from Moscow. 
The streets were packed with groups of girls in micro-skirts, and groups of guys trying to stay upright and follow them while consuming enough pints to float a battleship.
We ducked into a pub, and somehow in that packed mob of drunken fandom we miraculously ran into two of John's friends from Dublin. One of them, Joe, is a tall, rawboned fellow who still played rugby at the ripe old age of 48. But he's an even bigger soccer fan. Which is why he had flown over for the game. 
Joe told us the maybe best bar story I've ever heard. 
        * Slightly unsanitary but I hope you find it amusing. 
After one of the previous big Liverpool games, he was in this very same pub, standing at the bar talking to an older guy, another Liverpool fanatic. This older guy was so giddy, so ecstatic that Liverpool had won, he couldn't stop raving about the glories and the highlights of the game. 
He talked so loud and so fast that at one point his dentures flew out of his mouth and landed on the floor. 
Without stopping for air he kept right on talking, bent down, picked up the dentures, stood back up, dipped them in Joe's pint of Guinness to clean them off, then put them back in his mouth. 
Joe, not quite drunk enough to think this was normal, looked at the barmaid, whose mouth was agape in horror. 
Without a word she took his pint and replaced it with a new one. 
The older guy, unfazed, just kept on raving. 
        * The moral of this story: Don't Drink and Denture!
        ** I don't know if Guinness contains enough alcohol to sterilize false teeth, but someone needs to research this.
© 2019 Greg Tamblyn