FUNNY KEYNOTE SPEAKER - MOTIVATIONAL HUMORIST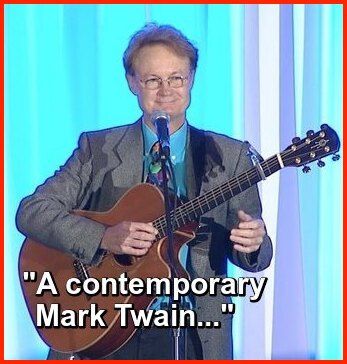 Scroll down for video clips & Free Tips
"Greg, you were the hit of our conference. Your music and presence were able to break down walls that no amount of talking could approach."        
- Marty Sullivan MD, Duke University Medical Center, Conference Chairman
"We've received the best feedback we've ever had from our staff. Your combination of compassion, wit, and wisdom is unique."   
- Wally Cline, Executive Director, Mount Rogers VA Community Services Board
"Your presence at the Pepperdine University Organizational Development alumni conference was the real high point for me..."      
-Ralph Kelly, Watkins & Kelly, Appreciative Inquiry Unlimited
"Greg, you are absolutely the very best conference emcee I have ever seen, bar none."  
- Martin Rutte, co-author, Chicken Soup for the Soul at Work
"Atilla The Gate Agent" is a humor story about dealing with difficult people:
At some point we've all met Atilla. Maybe more than once! This is one of my signature stories.
It reminds us that things always look different in hindsight. So it's best to not overreact in tough situations when dealing with difficult people.
If you could create your perfect Funny Keynote Speaker from scratch,  you might get someone like this: 
A speaker who is funny, inspires real change, and does it with a personal touch.
A keynote artist who also happens to be a multi-award-winning songwriter, with songs that grab your audience by the funnybone and the heartstrings.
A master storyteller and joke teller.
A humorist who is in the top 1% of people endorsed on LinkedIn for Entertainment.
A speaker who delivers solid learning via the scenic route: the right-brain doorway of music and laughter.
A keynote presenter who jokes that he has attained the coveted "NCW" degree (No Credentials Whatsoever), but who actually has a ton of impressive endorsements and testimonials, and graduated with departmental honors from Tulane University.

A keynote performer who is responsible, reliable, ridiculously easy to work with, and is likely to become your friend. 
Listen to one of Greg's Most Popular Segments
"The Top Ten Whiny Victim Love Songs"  (above) is a funny bit that illustrates how cultural memes infiltrate our brains and affect our attitudes.
The goal is to let good stuff in, and re-frame the bad stuff with humor. This is not only empowering, it's suspiciously healthy.
After seeing this, most people will never hear a "whiny victim love song" the same way ever again: these songs have now become material for comedy!
More importantly, this helps us become aware of any tendency we might have to think or act like a victim, and stop doing it.
Kansas Tourism: Travel Humor With Laugh Lessons
Kansas Tourism is a fun way to illustrate a few life lessons:
Celebrate the little things.  (Life is mostly little things.)
Be proud of what you've got.  (We can't all have beautiful beaches or majestic mountains.)
Pay attention to what you pay attention to!  (Keep your humor antennae up for the weird, wild, wacky, and wonderful. You can probably find a way to make whatever you're doing fun, or at least interesting.)
Free Tips For Injecting Humor Into Your Next Event Or Zoom Meeting
Let's explore how I can help you create a great event!